I really enjoy participating in craft markets! Admittedly, I've only been a part of a hand full markets, but I've hit the ground running and have had a ton of lessons learned already.
One example of some super fantastic experience is when I was a part of an outdoor craft market this summer on a blaringly sunny hot 90+ degree day and was the only booth who didn't bring a canopy. I had spent the night before the event painting a large folding table with acrylic paint, which admittedly did look pretty amazing and did attract a lot of customers to my booth; but since the paint hadn't had enough time to fully dry, it was dry to the touch but hadn't cured, the table's surface became tacky after a few hours of sun beating down on it. Luckily, none of my art was permanently damaged (the paint on the table did lose a couple of patches of color from sticking to my products) and I had super kind neighbors (see in the picture below) who shifted their canopy so I wouldn't go blind in the sun. Thanks AER Market!!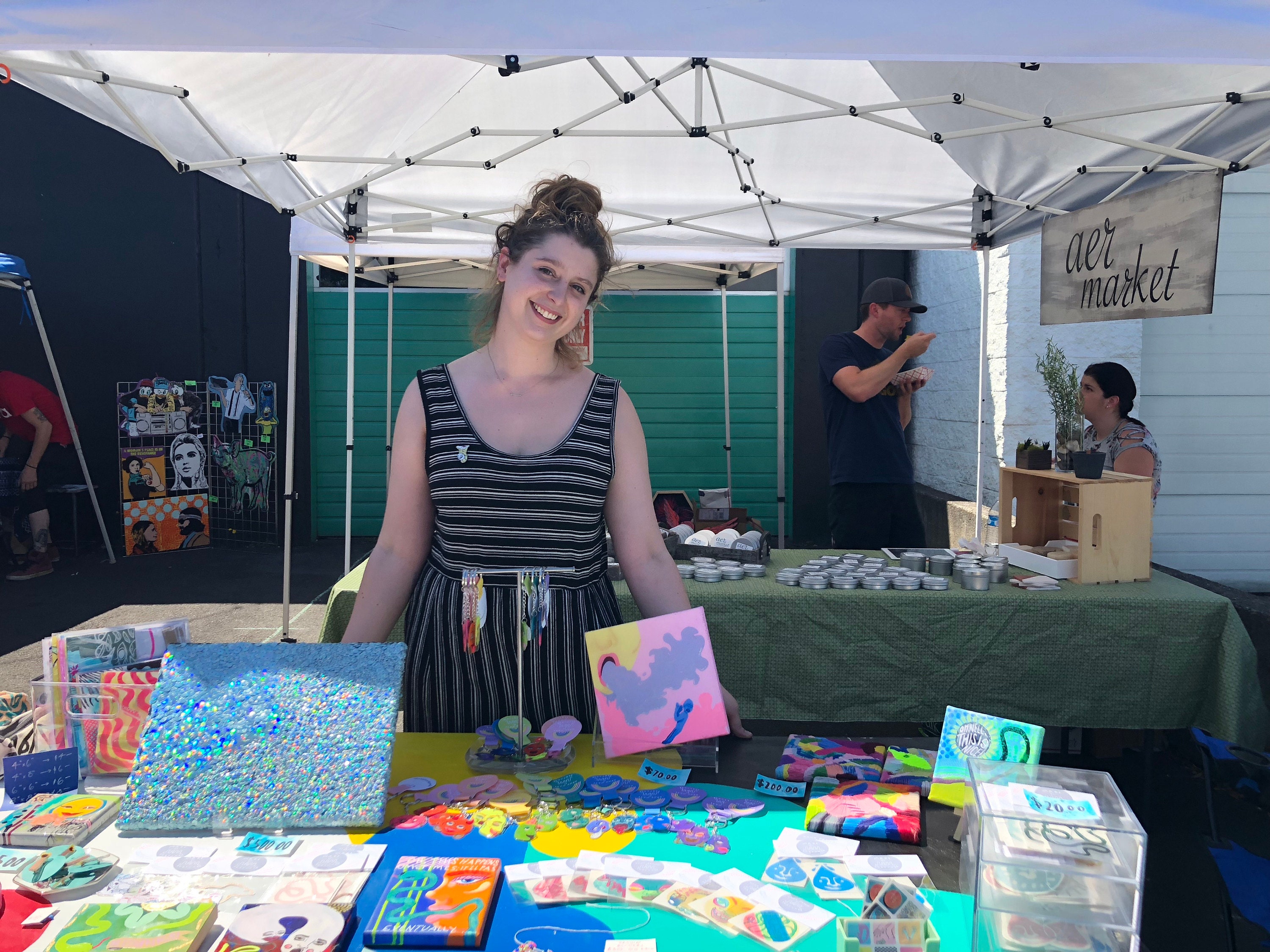 What did I learn? "Hey dude, please next time, bring enough equipment and be prepared, okay?" I'm lucky enough to have a car, which means I can typically over-pack for a market and be okay, since you can always leave potentially extraneous stuff in the car and pretend like you never even brought something if you're not sure you need it and you don't want to feel like a nerd for being super duper goddamn prepared. Also, maybe the equipment is heavy and you already have to haul all of your goods and displays to your designated spot. I've never participated in a craft market where you can't continue to unload, as long as it's before the doors open to the public. It's always better to have something and not need it than to need it and not have it, like camping.
I also learned that it's smart to prepare your displays and tables in advance! Do all the hard ware type stuff first and spend all of your last minute time creating more art or products to sell. If I had painted my display table for that outdoor market a week ahead of time, I could have not only let the acrylic paint dry and cure to the table, I could have sprayed a protective varnish layer on top of the paint to allow for more sealant. The table now needs to be spot painted before I use it again, and I definitely could have prevented that.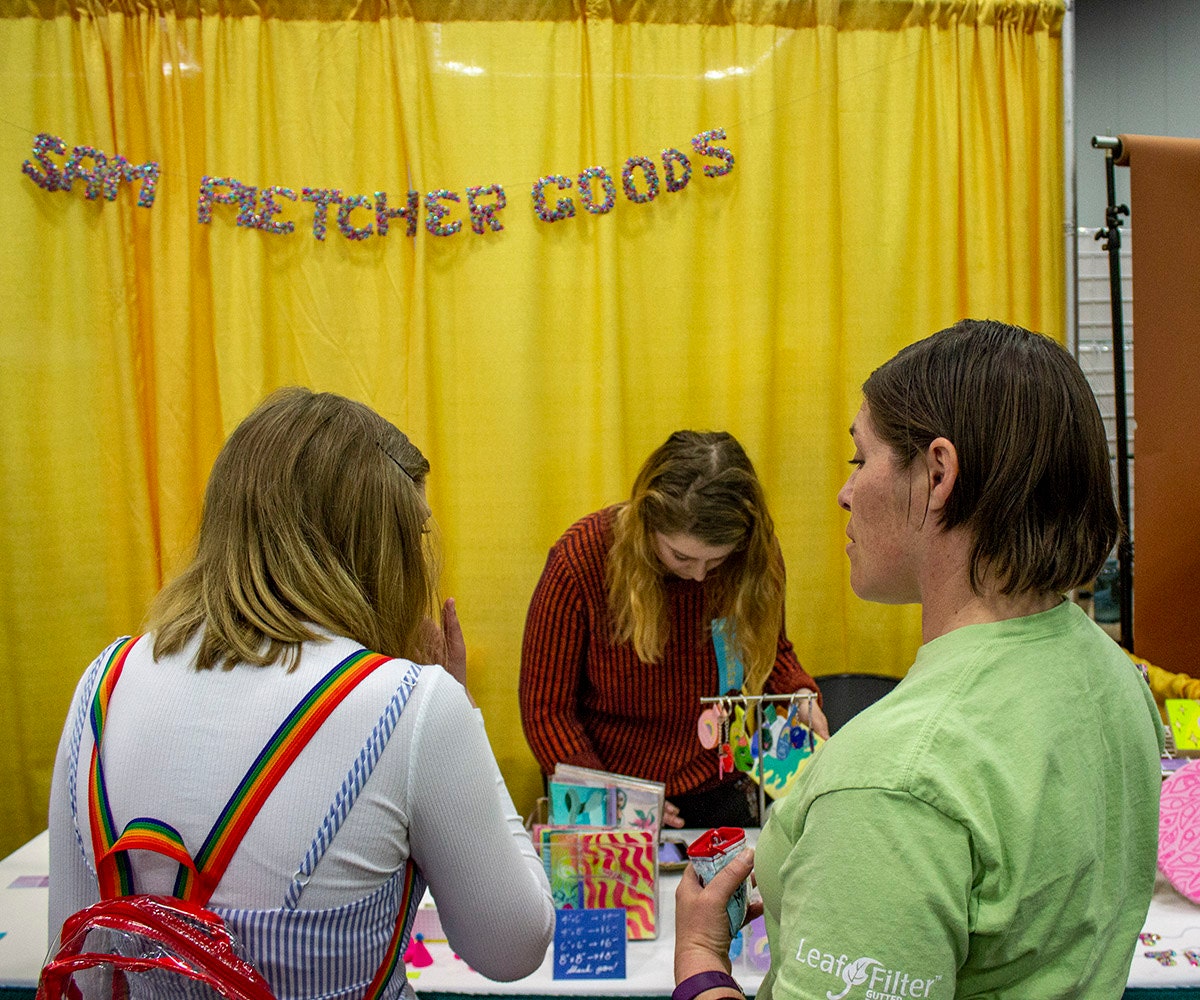 Sometimes those who host the craft market, like Crafty Wonderland, will reward you for being prepared ahead of time! Crafty Wonderland pairs it's vendors with a rental service for your booth needs and gives you a big discount if you order before a certain date, which I believe was even a month before the show. At first I thought, "Oh, maybe I don't need all of this rental stuff, what's even the point?" but CW had secured such a great set price that I couldn't see the harm in placing an order. Oh my god, did I need all of that rental stuff. Crafty Wonderland was my first real craft market, so I had no idea how they ran. The rental company placed everything at my booth for me, including two chairs, one big table with a cute little teal skirt, a trash can (which how would I have known to bring a trash can, so helpful!!), and a beautiful yellow back drop, as seen above. I was the only vendor with a yellow backdrop, so that felt pretty cool.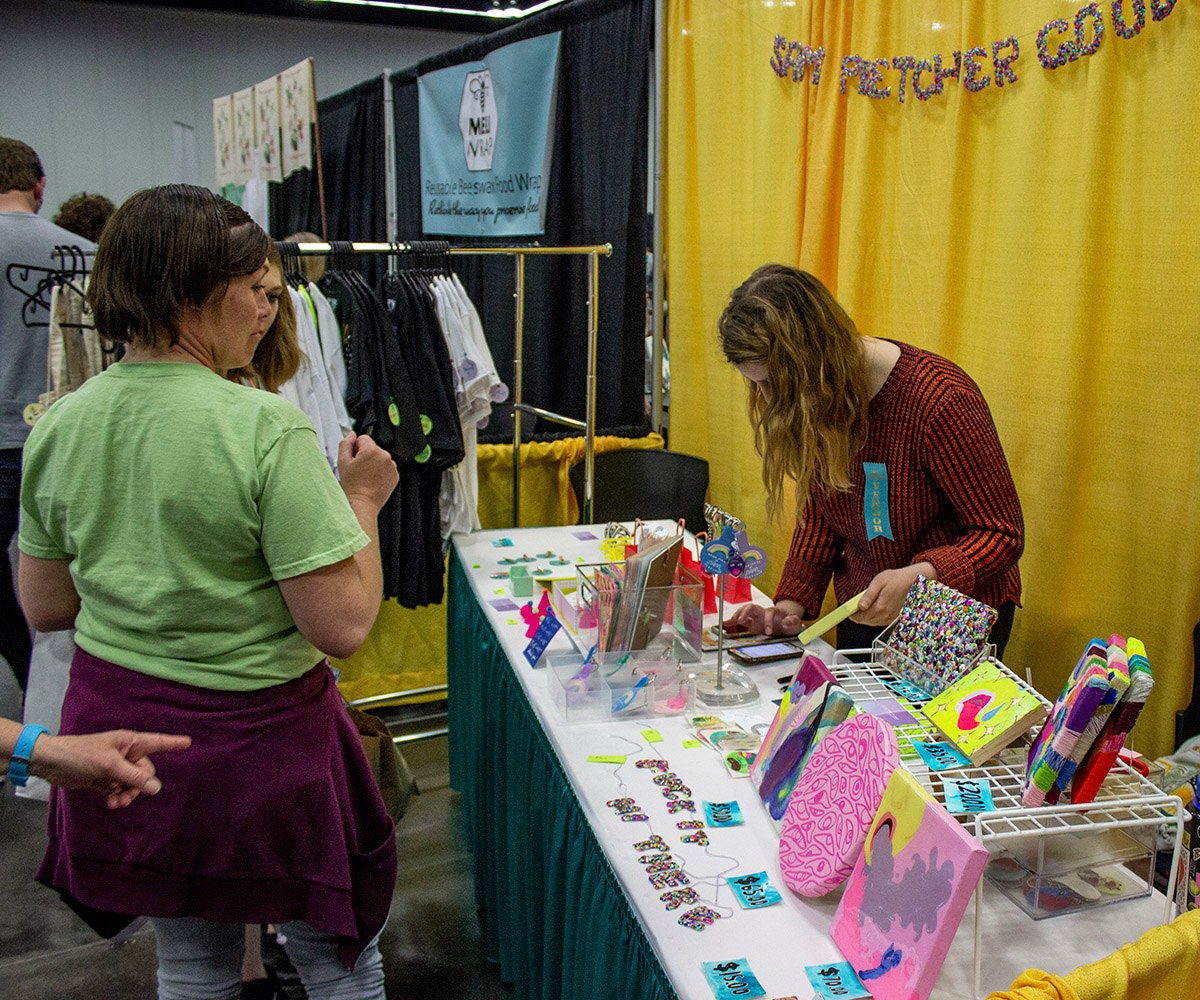 I'm really excited to apply to some winter craft markets, so wish me luck as I submit my work to a bunch of strangers!! Hopefully I get more experience and can write a follow up to this post  😎